11/4  Düsseldorf - the QR City / Radical Advertising
Yesterday I was in Düsseldorf having my presentation at Plakat und Media Kongress.
I posted my
presentation in german over at my personal blog
.
※ Thanks to Ulrike and Stephan for the invitation. I also met
Heike
for the first time face to face.
And then I saw suddenly all the posters with QR Codes in Düsseldorf. Not only the ones from the Plakat und Media Kongress, but also the ones for the exhibition
Radical Advertising
.
From the german press release:
Haben Sie sich auch schon über die wirklich seltsamen Plakate auf der Kö und in der Altstadt gewundert? ? Ein Schaf mit einem verwirrenden schwarz-weissen Gekleckse am Hals??
Zur Pressemeldung (.doc)
The QR Code below points to the mobile site where you can win mobile phones, a trip to Berlin , exhibition catalogues and download ringtones.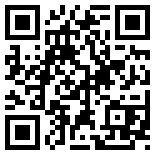 See also:
The german press release from Nokia about QR Codes
Radical Advertising: Interactive Media: QR Codes